For over sixty years Rasor, Italy has produced cutting equipment for textile applications. JRTL are pleased to be able to offer their range of composite electric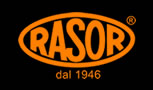 and pneumatic operated cutters suitable for: glass, carbon and aramid reinforcements and other technical textiles (carpet, astro-turf, glass re-inforced silicone, etc).
Rasor's competitively priced and reliable cutting solutions offer a faster alternative to the William Whitely hand shears. All supplied with integrated sharpening device
Electric Cutters and Scissors : for use on all non-carbon reinforcement
OPTIMA 70 : rated 220V, 4-edge blade Ø 70 mm (2.75"), net weight 1150g, for the cutting of material up to 15 mm thick
Pneumatic / Air Cutters and Scissors : for use on all high performance reinforcments including carbon & hybrid textiles

Click here to download data sheet
To arrange a demonstration or for more information contact us.