These tend to be non-woven products of polyester or glass fibre base (depending on temperature required) available in 1.5 metre widths, 50 or 100 metres long. Density range 130-300 gsm, identified with an LP or LG prefix followed by density code.
Glass, aramid or quartz woven fabrics for this application are also available with different finishes. Grades available for all types of: contour, air passage and fire retardant applications available on request.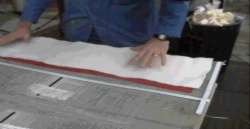 Breather Fabric is positioned over Bleed Film

Click here to download data sheet
For samples or more information contact us.