Insulation Blankets & Bolster / Contour Bags
JRTL offer a range of custom-manufactured insulation jackets and contour bolsters for use during manufacturing and repair operations. Fabricated from technical textiles, options include either glass reinforced silicone (for applications to 200 deg C) or Teflon / PTFE coated glass (for applications to 260 deg C).

FEATURES
Polyurethane nylon jacket

Water resistant

Flame retardant

Needled polyester insulation

Sizes:- 25L, 50L, 105L, 200L

Non standard sizes to order

These Bolster and Contour Bags are designed to withstand temperatures in excess of 200°C, depending on the grade ordered. They are filled with an insulation which conforms to the components shape and offer an alternative to preparing special tools and contour boards for supporting parts during repair or patch curing operations. The bolsters are double skin protected, having a reinforced outer cover suitable for the temperature range specified.

JRTL supply standard units, but also provide a tailoring service for specific components and profiles.
DIAGRAM: Manufacture & Repair Process Using Self Contouring Insulating and Conductive Bolsters.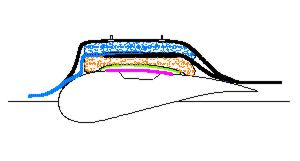 Click here to download data sheet
For more information contact us.
These high temperature resistant blankets are used to retain heat when performing manufacturing or repair operation. They ensure that heat losses are minimised at the points where required when either using integral heating or individual heater mats. The blankets are manufactured from a variety of soft woven materials with impermeable surfaces as required. These range from a combination of polyester and glass to aramid, quartz and ceramic textiles. The filling is generally a mineral fibre or granular material giving a quilted thickness range of 100 - 150 mm.
For more information contact us.