Quality Assurance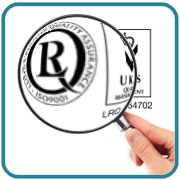 JRTL are an ISO 9001:2015 approved organisation supplying equipment and expertise to the adhesive metal bonded and composites industries.
Our range of equipment is approved by many of the worlds aircraft manufacturers, operators, maintenance facilities and military establishments for component manufacture and repair.  Other qualifications includes marine and autosport OEM's.
Our range of equipment has been approved by:
Agusta / Westland Group
Airbus and Boeing Aircraft Corporation
British Airways
The Patria Group
Military establishments: UK MOD, Royal Nowegian Airforce, Royal Australian Airforce, Royal Netherlands Airforce, Portuguese Airforce, Italian Airforce, Japanese Airforce & others
Also used by: Marshall Aerospace, Chelton Group and the UK and Worldwide MOD establishments.