These are generally a woven polyamide 6 or polyester fabric with a satin or plain weave. They can be used either on their own to give a non-contaminant release/bleed barrier or they may be treated with our Dry Film Release Agent 450 (PTFE based) to lower release forces required. These fabrics are available in 2 oz (55 gsm) & 4 oz (110 gsm) weights.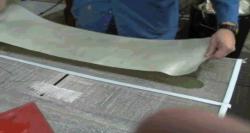 Peel Ply is positioned over the laminated part

Click here to download data sheet
For samples or more information contact us.