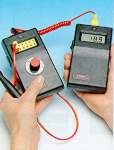 JRTL offer a range of Digital Thermometers which operate from -49.9°C to +1000°C. All are hand-held and battery operated type. A variety of thermocuple input options are available and units can be specified as either degrees C or F.

The Thermoocouple Selector Switch is a cost effective way of manually switching between 1 to 6 different thermocouples. K or J Type thermocouple input options are available. Batteries not required.

Click here to download data sheet
For more information contact us.