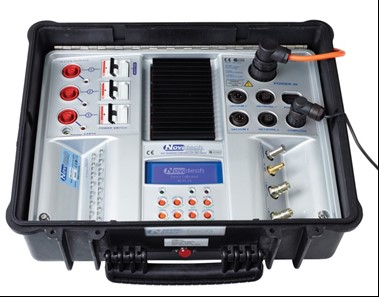 The Novatech HBC-4301A Hot Bonding Controller is well established as the Worlds most comprehensive and versatile unit on the market. It has a proven track record, intially having been designed for the Boron Patch Repair carried out by the RAAF (Royal Australian Air Force) and now used by many aerospace organisations for rectification and repair of composite parts.
A modular system (two main control cases can be linked) it provides the power for up to six zones for the control of heater mats, hot air blowers or infra-red lamps; offering both phase angled and burst fire outputs. Having two controllable vacuum pumps it can also be used for the double vacuum debulk process. The unit can be programmed to manage cure cycles (each with up to six stages) by applying the power at the appropriate time to follow a user determined cure profile. It monitors and records temperature inputs for up to 32 K or J type thermocouples.
Features:
Independent control of up to 6 zones

Inputs for up to 32 K or J type thermocouples

Auto selection of the highest temperature in each zone for control

Six ramp / soak stages in each cycle

Colour coded graphic display using a notebook PC

User defined adhesive specifications

99 pre-programmable curing cycles to minimise set up time

Hardcopy of all temperature, pressure and alarm data

Can monitor and control +ve and -ve pressure

Up to 4 internal vacuum pumps, which can be individually controlled and monitored

Robust construction
The HBC-4301A with our heater mats has been approved for use by: the Agusta Westland Group to cover repairs on all aircraft, Kawasaki Heavy Industries (KHI), Airbus, Boeing and the Patria Group.
Users of this controller include: Marshall of Cambridge Aerospace Limited, Cobham Group, NCC and Rolls-Royce. The UK, Danish, Portuguese, Italian, Algerian and Canadian military utilise it for repair of the Lynx, Merlin, Sea King and Chinook Helicopters.

Click here to download data sheet
To arrange a demonstration or for more information contact us.