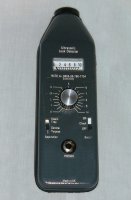 Vacuum leak detectors cut out the tedious process of searching for leaks in bonds and seals when applying vacuum or pressure to a sealed tool or bagged component.
They offer a fast and accurate way of detecting leaks, being hand-held and battery operated, accurately pinpointing even the smallest of holes hard to find without such instruments.
We offer a range of these (both new & reconditioned) available ex-stock, including:
Soundscan 101
Lucas Dawe Instruments 8902C
These instruments are supplied including:
UT Receiver
Headphones
Case
Concentrator kits (comprising 3 x delrin parts: 1 x Large Concentrator, 1 x Mini-Concentrator & 1 x Acoustic Tip)
These instruments can also be used in conjunction with ultrasonic transmitters for the testing of closed containers such as aircraft fuselages, fuel tanks, pressure systems and for the real-time monitoring of wearing parts such as marine bearings, compressors and other UT leakage applications

Click here to download data sheet
For more information or to arrange for a demonstration, please contact us.