The Ministry of Defence Significantly Reduces Aircraft Downtime Thanks to J R Technology's Range of Hot Bonding Controllers
Within the Ministry of Defence, it is crucial that aircraft downtime is kept to a minimum.  Glyn Deakin and his team in the Forward Support Mobile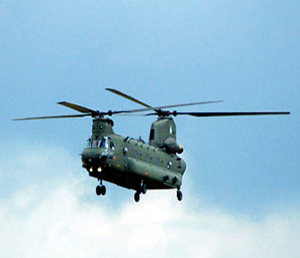 Aircraft Support Unit (F/S MASU) carry out structural repairs to all rotary wing aircraft.  The aim is to get the aircraft, mainly Lynx, Sea King, Chinook, Gazelle, Merlin and Apache, back in the air as quickly as possible.
For the last five years, Glyn has been using products from JR Technology's (JRTL) range of portable Hot Bonding Controllers namely the HBC-400/1/H and HBC-4301.  The company has over 20 years experience in the design, manufacture and supply of this equipment, for structural repairs, within the aerospace and associated industries.  The products are primarily developed for the control, acceleration and monitoring of resin cures.
Glyn comments, "F/S MASU worked closely with the JRTL team in the design of our equipment, to ensure it met with all our requirements, and the final product has proven itself to be reliable.  The product is also extremely cost-effective, costing us tens of thousands of pounds less than other bonders on the market which do the same job."
F/S MASU routinely carries out repairs using epoxy adhesives, which require the application of heat.  These repairs range from light weapon damage to more extensive distress and Glyn uses equipment from JRTL for 45% of F/S MASU's current work on a worldwide basis; including operational theatres in Iraq, Afghanistan and throughout the UK.
The Hot Bonding Controller HBC-400/1/H offers the most basic solution, but is lightweight and robust in construction. The HBC-4300 Series is a notebook/PC controlled unit, with rugged / solid state electronics, allowing up to 6 zones to be controlled independently, with inputs for up to 32 thermocouples, vacuum level monitoring and control of up to 4 points - making it the most versatile and comprehensive bonder on the market.
"We currently have 8 bonding repair kits, which allow our aircraft repairs to cure quickly (6 hours) and not 5 days if cured at ambient temperature.  The saving in aircraft downtime is massive and having this equipment significantly improves operational capacity and capability – making sure the aircraft are out doing their jobs and in many cases, saving lives.  The support, communication and service I have received from JRTL has been excellent and I have every intention of continuing to use products from their range."

Click here to download data sheet