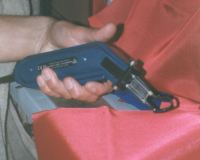 J R TECHNOLOGY LIMITED supply a variety of composite cutting equipment, including the following:-
Manual Scissors and Piercers

: a range of scissors and shears are stocked in a variety of sizes, as well as for left handers. These include: laser serration's and PTFE coated.

Air Tools and Diamond Coated Cutters : a range of these can be provided to you requirements.

Hot Knife Cutters : these facilitate the cutting, slitting and resealing of many workshop consumables. Quicker, more accurate and cleaner than using shears also eliminating frayed and unsealed edges.

Adjustable Film and Fabric Unrollers are also available.

Click here to download data sheet
For more information contact us.