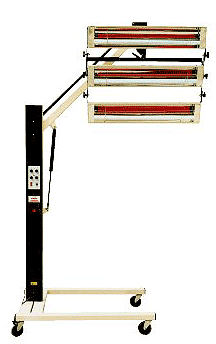 Description:
The JRTH-HL4500 model has three Super long 1.5 Kw GC Powerslim lamps, fitted into three individual cassettes.
This flexible system allows each cassette to be adjusted and locked into position around the contours of the vehicle body, ensuring maximum area coverage.
Height adjustment is made using the high performance locking gas strut, offering a near weightless movement to the cassette support arm.
Heater Lamp Type JRTH-HL4500, comprising: 3 x 1.5KW lamps, 750mm long,
rated: 240 Volts & 18.75 Amps, area coverage: 1000mm x 1250mm, modified with no control switching, armoured power in cable & plain housing (as recently supplied to BA, but with JRTL Hot Bonding Controller Type 400/1/H/P). Each lamp is fitted with a power ON / OFF switch, but these should not be used to control temperature of lamp:
Advantages:
750mm 1.5kW High output GC Powerslim short wave tubes fitted to each cassette.
Long lamp/emitter life with an average of 6000hours.
Typically 4 - 5years continuous professional use
0 - 100% heat instantly through twin 30minute timers on both the Flash and Bake settings.
Robust steel constructed stable frame, fitted with rear wheel locking castors.
Maintenance free cassettes with no fan or filter changes.
Easy height adjustment by locking gas strut.
Individually switched cassettes
Horizontal or vertical cassette operation
Specification:
Area coverage 1000mm x 1250mm
Minimum operating distance - 600mm
Max vertical curing height 2150mm
Max horizontal curing height 1800mm
Electrical specification:
220/240Volt 4.5KW 50Hz single phase 18.75amps, part number JRTH-HL4500/230
380/415Volt 4.5KW 50Hz 3 phase 6.25amps per phase, part number JRTH-HL4500/400
Compatible for use with Heater Lamp Controller Type 400/1/H/P (for more information follow this link

)
To arrange a demonstration or for more information contact us.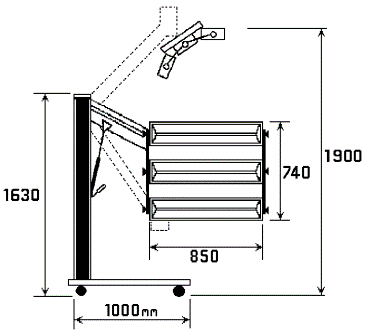 FOR MORE DETAILS CONTACT US.