The Woodpecker WP-632AM-R Handpiece is the latest incarnation of the Woodpecker automated tap tester. It offers all the advantages of the previous models but is supplied with a remote probe as standard, with the option of using a smaller XY plotter.
Having an LCD display built into the Handpiece, it clearly shows the set and measured contact times (in mili seconds), making it easier to set up on the test standard. With integrated battery backup RAM (BBRAM), the unit data logs points giving a record / history that can be saved creating traceability of a scan.
A Function Test Kit is also included with the unit, which means that it can be function tested in-house to the manufacturer's specification without the need for other expensive equipment. Note that this does not replace the necessity for annual calibration (if required), which is recommended on an annual basis.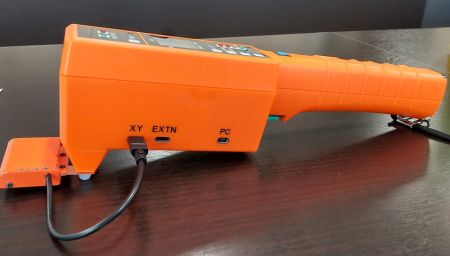 The XY plotter is available as an option for the Woodpecker WP-632AM-R Handpiece. It allows the user to measure the contact time (in milliseconds) of the structure under test and displays the position of the unit on a PC (as a colour tile map or numerically) if used in real-time. This record can be saved and printed creating traceability of a scan.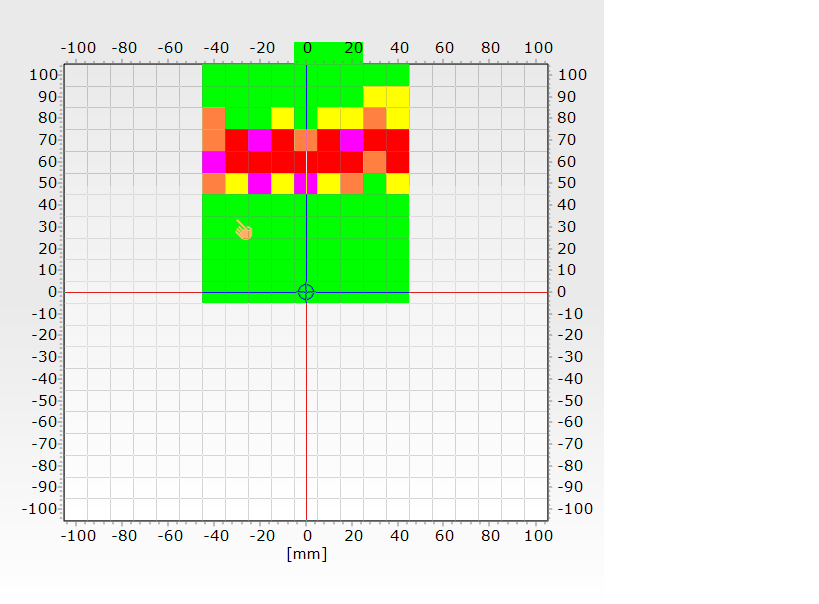 The WP-632AM-R Handpiece has been available since November 2021 and replaces all previous Woodpecker WP-632 Series Models.
The following specification table shows the differences between the Woodpecker WP-632AM-R Handpiece and the previous WP-632AM:
| | | |
| --- | --- | --- |
| SPECIFICATION | WP-632AM HANDPIECE(from 2007 to November 2021) | WP-632AM-R HANDPIECE(from November 2021 to current) |
| Storage humidity | 10 to 90% (without condensation) | 10 to 90% (without condensation) |
| Storage temperature | -40 to 60 degrees C | -40 to 60 degrees C |
| Operating humidity | 10 to 90% (without condensation) | 10 to 90% (without condensation) |
| Operating temperature | 0 to 40 degrees C | 0 to 40 degrees C |
| Display | Custom L.C.D. with backlight | Custom L.C.D. with backlight |
| Weight | 350g / 12.8oz - excluding batteries, 450g / 15.9oz - including batteries | 350g / 12.8oz - excluding batteries, 450g / 15.9oz - including batteries |
| Dimensions | 100 x 46 x 276 mm / 3.9 x 1.8 x 10.9" | 100 x 46 x 276 mm / 3.9 x 1.8 x 10.9" |
| Battery type and life | 4 x AA, typically 10 hours continuous use, with low battery check | 4 x AA, typically 10 hours continuous use, with low battery check |
| Other functions | Backlit display, 'standard' set-point, go/no-go, review function, data-log up to 1000 data sets, option to download via RS-232, auto-off (12 seconds) | Backlit display, 'standard' set-point, go/no-go, review function, data-log up to 1000 data sets, option to download via RS-232, auto-off (12 seconds) - TBC |
| Nato Stock Number (NSN) | 6635-99-282-4319 | TBC |
| Colour | Grey | Orange |
| XY Plotter position | Under unit body | Forward of unit |
| Expansion | Yes, optional XY plotter | Yes, remote probe & optional XY plotter |
| USB connectivity | Yes | Yes |

Click here to download more details on the Woodpecker WP-632AM-R Handpiece

Click here to download the product launch details for the Woodpecker WP-632AM-R Handpiece

Click here to download the specification table for the Woodpecker WP-632AM-R and WP-632AM Handpiece
For more information or to request a demonstration please contact us