JRTL are pleased to announce their partnership with Victory Lighting Limited – experts in Infra Red (IR) heating. The formal agreement was signed at Helitech in September 2009.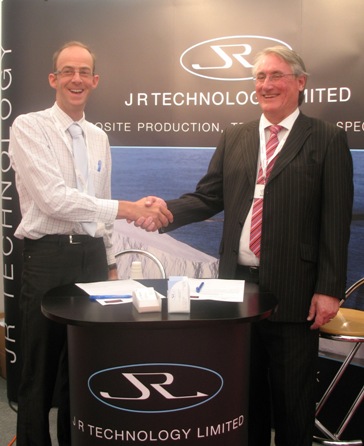 It enables JRTL to offer an extensive range of shortwave IR heater lamps and fittings adapted specifically for the composite & aerospace industries. IR lamps are 92% efficient at converting electricity into heat, giving considerable cost savings whilst providing a controllable, reliable heat source for instant temperatures up to 120+ deg C.
Uses include: curing of paints, sealants and adhesives, curing of in situ bonded repairs, etc.
These compliment JRTL's existing range of composite repair equipment and non-destructive testing ('NDT') inspection instruments.
At Helitech 2009 JRTL displayed the mobile heater array Type JRTH-LP3000 a 3000 Watt IR fitting and showcased the newly updated Hot Bonding Controller Type HBC-4301A as specified by Agusta / Westland's for bonded repairs on Lynx, Merlin & Sea King aircraft.
"Helitech is an ideal platform for us to demonstrate our latest products and services," comments Paul Rogger of JRTL. "We pride ourselves in working very closely with our customers so we can ensure their needs are met and they get a substantial return on their investment."